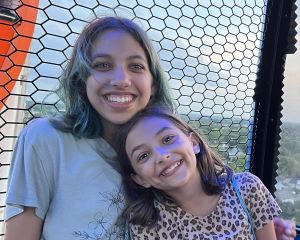 A few weeks ago, my ten year-old came home from her first field hockey practice with some news that touched my heart. She said that the first half of practice she had been practicing self-criticism and comparing herself to others, but then the second half of practice, she remembered self-compassion, and she began to repeat the kind wishes in her head that we've been practicing together for the last few years (May I be joyful…May I be the person I wish to be…May my heart be full of love and connection…). 
My heart leapt with joy at her compassionate inner voice, and I thought to myself, "She's going to be okay!" This is the same thought that I had when my now fourteen year-old began to report that she had an inner voice that soothed and encouraged her when she felt "less than" in middle school. When a child develops an inner self-compassionate voice, I know they are going to be "okay." They have an inner ally that will soothe them during difficult times and help them to grow and change in positive ways.
It is my deepest wish that all of us – adults and children – can develop an inner self-compassionate voice that helps us to know that we are "okay" and loved. As grown-ups, we can grow our self-compassionate voice by taking self-compassion training or learning about self-compassion, and then intentionally practicing our inner soothing and encouraging voice. We can also encourage the youth in our lives to take a self-compassion class or read self-compassion books to support them in learning and growing the compassionate voice that they have hopefully been hearing from the grown-ups around them.
My favorite self-compassion program for families is the parent-child self-compassion class. I love it because it enables children and their grown-ups to learn self-compassion side-by-side. It is beautiful indeed when both caregivers and children encourage each other to remember to be self-compassionate during their difficult moments (see the below one-minute video).
Wishing you and the youth in your life the resource of self-compassion.
With love,
Jamie Lynn